Australia never experienced anything at all remotely resembling the Cuban Missile Crisis or McCarthyism but we did have the Petrov Affair.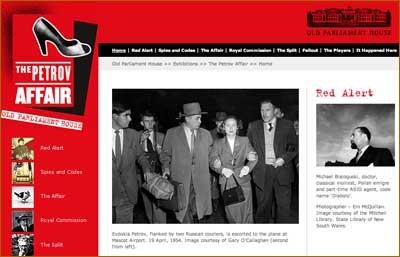 Back in April 1954 Australia had its very own Cold War drama when Vladimir Petrov defected while employed as a third secretary at the Soviet Embassy in Canberra, Australia's capital city.
The episode became known as the Petrov Affair and it dominated the Australian political landscape and newspaper headlines. Australians were caught up in "stories of espionage and political conspiracy".
As the Old Parliament House web site states, "The defection of the Petrovs came to be regarded by Western intelligence services as one of the most important of the Cold War era and it had a profound and lasting impact on the Australian political landscape, with the Labor Party Split a direct consequence of the events of 1954-1955."
The Old Parliament House (now known as the Museum of Australian Democracy) has an exhibit commemorating the event and in support they have created a web site rich with resources suitable for students of Cold War history near and far. There is also a web quest that students can explore. The resources are particularly useful for students of Australian history at Stage 5 of their schooling in NSW. There is a wealth of documents, photographs, media files and links to investigate. There is also a Wikipedia article regarding the event.