I like my Jaiku badge. It sits on my web site's Welcome page. It acts like a "What's New?" item. It takes in feeds from my blog, Flickr, delicious, etc. Visitors to my site quickly know what is going on.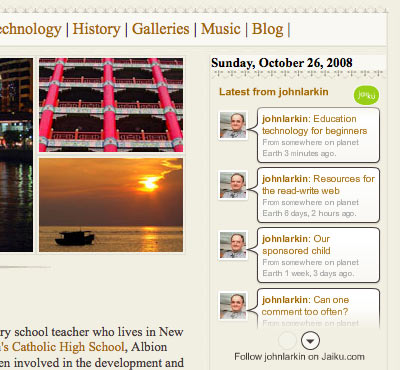 Jaiku was feted as a Twitter killer yet that did not come to pass. I never used Jaiku as a Twitter replacement. I do not post Jaikus if you know what I mean. When Kevin Lim* shared it with the Media Socialists at Toa Payoh Library in Singapore last year I thought, "Brilliant, I can set up an elegant little lifestream on my home page!" One can add their feeds, fine tune the appearance and colour palette to match their site, copy and paste the code and there you have it.
Well, the embedded links have failed to work for some time. Clicking on an item would not take you to the originating source, for example, my blog. The embedded links worked on some Macs and some PCs but not others. Updating or rolling back the version of Flash Player worked. Sometimes it did not. I had a temporary fix and then that no longer worked.
I put the problem in the 'too hard' basket for a while. I decided to Google the problem again this morning and this page from Adobe popped up in the results: Links from SWF files in HTML page no longer function (Flash Player 9).
I read the data, added the relevant lines of code to the Jaiku badge code and "Voila!", it works!
Now, for the next problem. Jaiku will not find my Twitter feed. Oh well. Solve one problem and another one appears on the horizon to provide me with a challenge. Although, I think this is a problem with Google~Jaiku.
*If you have not subscribed to Kevin Lim's blog then why not do so now? He is currently researching social networking technologies as part of his doctoral studies. He is a worthy, entertaining and enjoyable read.