Yesterday my wife Shao Ping and I ventured up to Sydney to meet up with Tom Barrett and Steve Collis. I was keen to meet both Steve and Tom as they have always been thorough gentlemen in all of our communications and great supporters of my blog too. Great chaps indeed. Tom and his family are on holidays here in Australia. They have travelled all the way from Nottingham in England.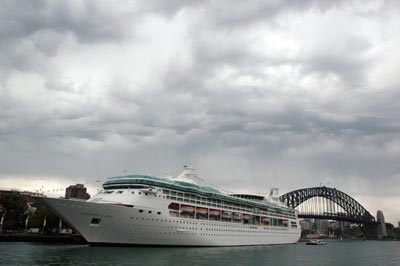 Shao Ping and I jumped in the car and drove to Allawah in Sydney, parked the car and hopped on a train to the city. We changed trains at Central Station, alighted at Circular Quay and caught a ferry to Manly across the majestic Sydney Harbour. We then walked along the Corso to the beach at Manly. We were a little early so we wandered about a bit.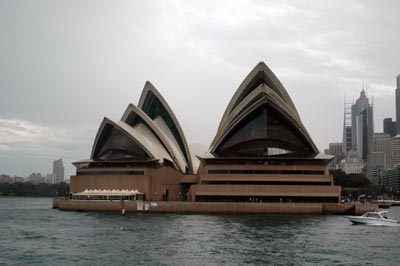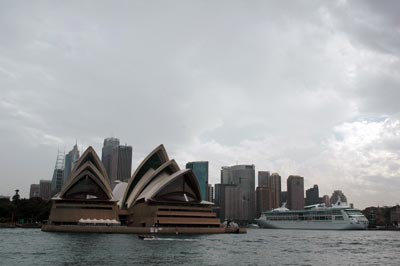 Sydney Opera House and the city in the background
Tom found us first and then Steve turned up. Excellent! Interesting Tom looked more Australian then either Steve and myself. We all made our way to a local cafe for lunch. It was a bit like a blind date really. I had never met Tom or Steve in the flesh before. Have you ever been on a blind date? My wife and I were joking about this on the way to the meetup. Perhaps I might fall for Steve or Tom! Nothing quite like an each way bet, eh?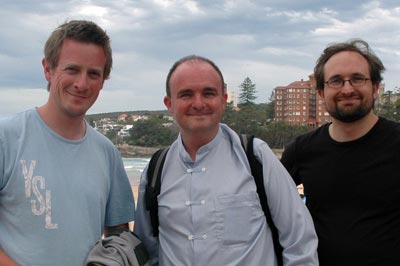 Three men on a blind date. Tom, John and Steve.
We ordered drinks and a meal and the conversation began. We carried on for about 2.5 hours. We covered all sorts of territory from practical, down to earth blog posts, the effectiveness of Twitter as a source of immediacy and connectedness in the classroom, through to innovative teaching and learning practices, teaching second languages and emigrating to a different country.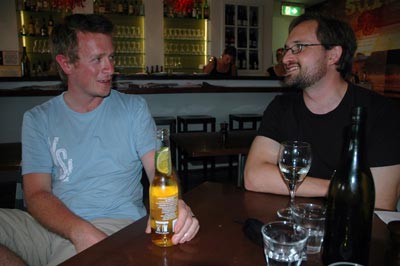 Life is good. Holidays, travel, freedom, drinks with friends.
We compared our actual teaching situations and spoke of future plans. Steve's recent trip to the United States was a source of interesting discoveries. My wife and I took a few photographs including the obligatory hardware snap. In fact the  hardware surfaced for all of about 2 minutes. I do not own a mobile phone so I played with a small camera for the benefit of the shot.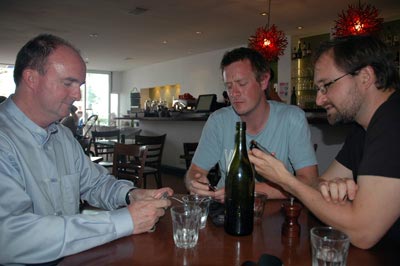 Mini unconference. NECC watch out!
We adjourned to Manly Beach after the meal and we also took a few photographs with the Santa hats I had brought along for the meeting.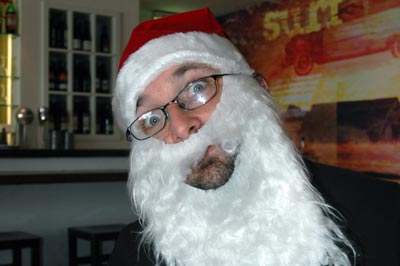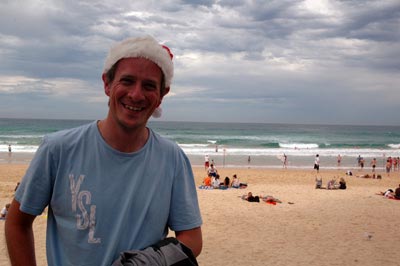 Tom by the beach in a festive setting
We all had a jolly good time and I am glad I made the trip to Sydney. The weather held off and it was just a great experience to meet up with Tom and Steve. Two great blokes, both hard-working and innovative teachers and each a source of support and inspiration. Thanks Tom! Thanks Steve!
PS. Tom is on his way to Adelaide now to catch up with his dad and perhaps Graham Wegner, another gentleman on the blogwaves.