Mobile technologies in the classroom. Well, that is a bit of a misnomer. Mobile technologies should take one out of the classroom of course. I am conducting a presentation on this topic
This year the school at which I teach took delivery of about 120 iPod Touches. They are maintained in these secure cases not unlike a camera bag within foam that was cut to hold 20 of the devices. Teachers can collect the case and then distribute the iPods to the students. They can access the Internet wirelessly. I have observed students using literacy apps. The students sit on stairs, the floor, at desks, anywhere. Inside. Outside. Walls have no meaning. After all, the students are portable.
The school has also obtained two iPads and I have been working with two of our disabled students. Each student has found the iPad to be a worthwhile tool. It is still early days. They have worked with WritePad and Brushes and found the tools accessible. WritePad incorporates hand writing recognition software which I find is quite useful. The iPad is proving to be a remarkable device.
Personally I think the school should sell all the iPod Touches to the students and purchase iPads with the proceeds.
There is much to consider when deploying mobile technologies in teaching and learning. All of the usual suspects apply of course: curriculum integration, suitability, accessibility, staff training, privacy, cost. Then there are the pedagogical considerations… constructivist, situated, collaborative, informal and so on. Read this and this for more ideas.
I have been building a mindmap with some of the ideas that have crossed my mind. I began this mindmap on the MRT between Tiong Bahru and Boon Lay here in Singapore. I used Mindnode on the iPhone. After lunch on Sunday. It was quite easy actually. I emailed to myself and completed it on the Mac. Have a look. I should make it shareable so others can add and subtract. Let me look into that. What do you think?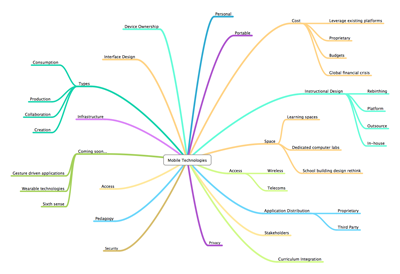 This is a work in progress. If you wish to explore more on this topic you may like to consult the excellent references linked to below.
Educause ~ Mobile and Handheld Computing
Educause ~ Cloud Computing
Educause ~ Mobile Learning
New Media Consortium ~ Horizon Reports: 2009 and 2010
Futurelab ~ Mobile technologies and learning
Educause ~ Seven Things You Should Know About…
Cloud Computing
Mobile Apps for Learning
E-Readers
Microblogging
QR Codes
Geolocation
Multi-touch Interfaces
Skype
E-books
Augmented Reality