One of the topics covered during the Preliminary Ancient History course in Year 11 is the work of the archaeologist. A subset of that is aerial archaeology. The combination of flight and photography has provided archaeologists and historians with a valuable tool. How valuable?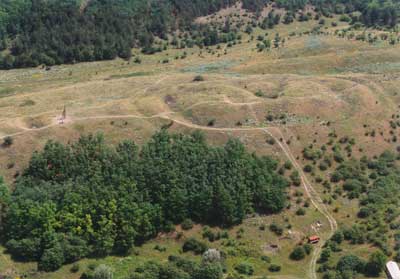 Aerial photography allows the archaeologist to view entire sites and also to recognise features that may not be clearly visible at ground level. Soil marks, crop marks and shadow marks are visible via the technique. Buried structures and slight, yet regular, undulations in the land can be revealed. As a result structures that have been 'lost' or forgotten over time reveal themselves to the researcher.
Aerial archaeology
Remote Sensing and Archaeology Project
Aerial photo analysis and survey – GIS and Remote Sensing for Archaeology: Burgundy, France
UK Aerial Archaeology
Classics and Ancient History – Aerial archaeology in Jordan Project - Archive Page – Flickr Sets
Aerial Archaeology Flickr Group
WIkipedia – Aerial Archaeology
Wikimedia Commons – Aerial Archaeology Photography Category
Soil marks
Learning Archaeology: Pre-Ex: Aerial Photography: Parch Marks and Soil Marks
Crop Marks
Learning Archaeology: Pre-Ex: Aerial Photography: Crop Marks
Photograph acknowledgement. The picture above is ©Copyright Civertan Grafikai Stúdió (Civertan Bt.), 1997-2006.; http://www.civertan.hu/. It is released under a Creative Commons license (Attribution-ShareAlike 2.5 and older).
Additional archaeology links can be found on this page on my main site.