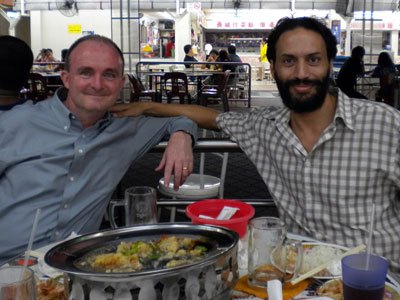 Finally got to meet with Rob Newberry last night. Rob and I have been exchanging notes via Twitter (@RobinThailand and @john_larkin) and also email for some time. Rob had been teaching in Thailand and he recently transferred to work here in Singapore with an international school as a director of IT. Very nice role indeed. We had a jolly good night. It always excellent to met members of your network face to face!
We met at Bugis MRT station and then headed off to Bukit Batok on the MRT to have dinner and couple of ales at the "coffee shop" where Shao Ping and I used to regularly eat back in the late 1990s and earlier this decade when we lived across the road in Block 254 and later up the road in Regent Heights.
We then cruised into the city and took up a posse to watch the world go by. Shao Ping and I often had a Mexican meal at the same place and engaged in some people watching. Rob and I must have looked out of place last night as I brought along the iPad and we were exchanging notes regarding apps and its use in the classroom. We talked about our journeys, music, teaching and working with tech in the classroom.
We are kindred souls in many respects. Rob is a nice bloke and if you ever have the chance to work with him go for it! I am sure going to try and collaborate with Rob during my next trip to Singapore in October. Bring it on!