On the 19th February, 1942, the city of Darwin in Australia's Northern Territory was bombed by Japanese military aircraft. Two bombing raids took place. It was just four days after the fall of Singapore. The bombing raids were led by the same commander that presided over the attack on Pearl Harbor on the 7th December, 1941.
At least 243 people were killed during the raids. The casualty list published in newspapers at the time was much lower so that the Australian public would not be alarmed and panic. This bombing raid was followed by countless more at various points across Australia's northern coastline. Towns such as Exmouth, Broome and Townsville were bombed during this period.
There are some informative resources regarding these attacks that teachers and students would find useful. There is Australia Under Attack at the anzacday.org.au site. This section is a subset of the Battle for Australia component of the site. There are a number of photographs that educators and students can also freely use as long as they acknowledge the Australian War Memorial. One such image from the web site is displayed below.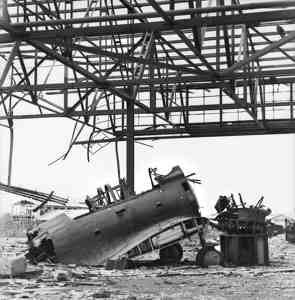 AWM 026977 Damaged RAAF hangar. A Douglas dive bomber lies in ruins.
The Australian War Memorial also has a valuable suite of resources including the article, Australia bombed, strafed and shelled. It incorporates a map illustrating sites that were attacked around the Australian coastline. Of course you can always conduct a search for resources at the Australian War Memorial.
There is also an informative page set up by the Australian government at The Japanese bombing of Darwin and northern Australia.
Additional resources and sites:
Photographs of the bombing of Darwin
Bombing of Darwin ~ Wikipedia
The Darwin Bombing WWII ~ YouTube
Please feel free to suggest more resources by posting a comment.