I conducted my last workshop yesterday. Digital Still Photography. It went well and I am sure the participants picked up some skills. There were participants from other workshops present yesterday. It was a pleasure to see them again.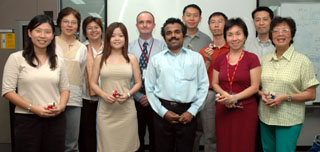 Afterwards Daniel, Vivien, Sharon, Paul, Woan Ling, Alan, Daniel's son, Jonathan, and I went to Tiffany's at the Furama Hotel for dinner. We ate well and we laughed well. I was exhausted by the end of the night and I crashed at the hotel.
Flying home today. British Airways. Can't have all the luck. Hope this red-eye flight is not that bad. Today I will do some shopping and take a few photographs.