A couple of days ago Paul Hamilton published a post concerning WebNode. I bookmarked the site and this morning I toyed around with some of its feature set. This tool is impressive and I will definitely share this site with the students when school goes back in a month.
WebNode allows you to build a web site. Not just any web site but a full featured web site plug and play construction, impressive widget embeds, RSS feeds, elegant templates, multiple file upload. You can even point your own domain name to the site. It is sensational. Signing up is straightforward.
This morning I have simply created the initial template page and I have not made any changes other than deleting my email address from the contact module. I prefer to have my email address as an image so as to deter spambots.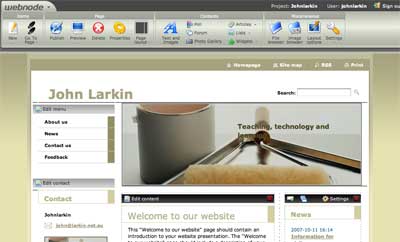 If you look closely at the toolbars available in edit mode you will see that there is a rich set of options for you to explore.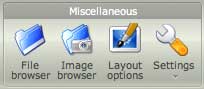 You can drag and drop text elements, image elements, forums, polls, lists, articles and a diverse range of widgets. The screen captures below will give you a guide to some of the widgets that you can embed.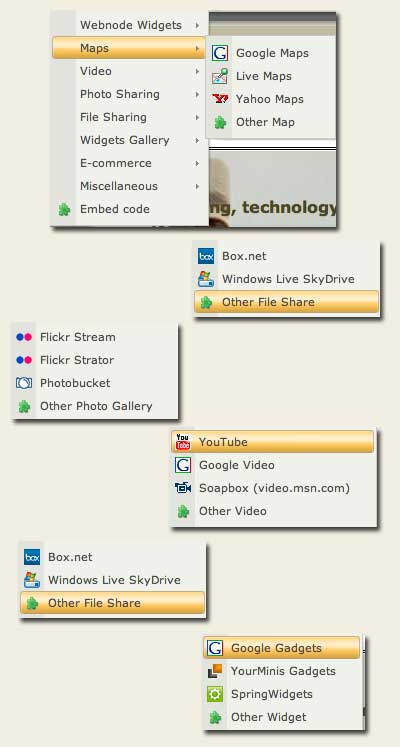 This is truly a tool worth your exploring. I have really just scratched the surface. I wonder what will happen to the client based software tools such as Dreamweaver now that tools such as these are beginning to become mainstream?
The WebNode home page states there is no catch and I checked out their Media, About and the Terms and Conditions pages. There was one condition that I do consider a "catch" per se. Under the heading "Intellectual Property" they state:
"You acknowledge that by posting materials on the webnode site You grant to Us and Our licensors and assigns an irrevocable, perpetual, royalty free, worldwide licence to use the materials both within the webnode site and in any other manner. The licence extends to copying, distributing, broadcasting, and otherwise transmitting, and adapting and editing the materials."
This will be a source of concern for some. I do wonder about allowing WebNode and their licensors to use your material as they wish. This is a good tool and has great potential. What are your thoughts?