About a day or so ago I exchanged a couple of brief notes via Twitter with edublogger par excellence Clay Burrell regarding the Flock browser. I mentioned that I liked Flock but was disappointed that I could not post directly to my self- hosted WordPress blog. It has trouble recognising the api I think. Prior to that I could post directly to my old Blogger blog. It is a neat tool as you automatically gather the urls and images into the post via Flock's excellent feature set.
Well, I was glancing through my tweets this morning and here is this tweet from the Flock team asking how can they help with my Flock problem. That is amazing. I wasn't even following Flock.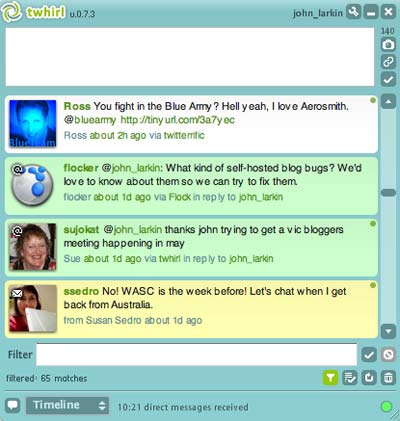 Think about it. If I had commented on my Mac or something to do with Microsoft Office would I have received a tweet from those organisations? I replied and I now await their response.
Update: Monday 24th March. Flock replied to my twitter response and provided me with the email address of one of their staff members. Excellent service!