This morning I read an article in the Sydney Morning Herald about the world's oldest recorded sound. The recording was made by Édouard-Léon Scott de Martinville on a phonautograph. The audio recording predates Edison's sound recordings by a couple of decades. The recording is available from the the First Sound site.

The world's oldest recorded sound

The entire recording is ten seconds long and features a Parisian singer giving a rendition of the folk song "Au Clair de la Lune". The recording was made on a phonautograph, a device that was created to record sounds visually. It was not designed to play them back. A group of scientists at the Lawrence Berkeley National Laboratory in Berkeley, California devised a method to decode the paper based transcription to audio.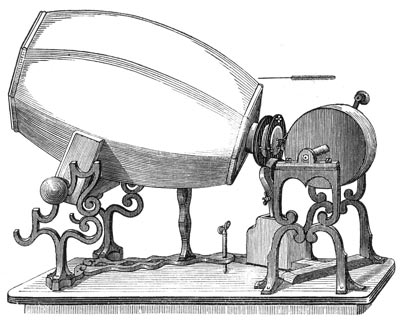 The 1859 model of Scott's phonautograph. Source: Franz Josef Pisko,
Die neuere Apparate der Akustik (Vienna, 1865). Image courtesy of David
Giovanni and First Sounds.

Detail of an 1859 phonautogram made by Scott and included in his patent paperwork, preserved at the Institut National de la Propriété Industrielle (INPI),
the French patent office. Image courtesy of David Giovanni and First Sounds.
David Giovanni gave permission for the reproduction of the images on this page. His own web site is well worth exploring. David Giovanni has been involved in the discovery and publication of old recordings. One of his releases, Lost Sounds: Blacks and the Birth of the Recording Industry, 1891-1922, even won a Grammy Award.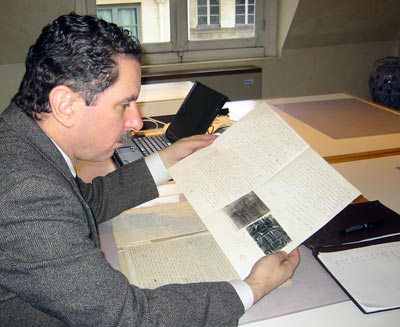 David Giovannoni inspects Scott's first two experimental sound recordings,
made in 1853 or 1854, in the archives of the Académie des Sciences
of the Institut de France, where they were deposited in 1857.
Photo by Isabelle Trocheris. Image courtesy of David Giovanni and First Sounds
.
I have always had a fascination with audio. I used to enjoy taking bootleg recordings of artists like Bowie, Led Zeppelin and others and then attempting to improve the sound quality using tools like graphic equalisers and a DBX 117 dynamic range enhancer. I was once a guest editor of Crosstalk, the journal of the Australian Tape Recording Society way back in 1980, I think.
Vaguely related note: If you are interested in old 78RPM records I highly recommend that you check out Joe Bussard's Fontone Records site. He was born in 1936 and is a classic digital native. Check out his MySpace profile for his take on rap music and rock 'n' roll.
Links:
Wikipedia: Édouard-Léon Scott de Martinville
First Sound.org
David Giovanni's web site.
New York Times. Researchers Play Tune Recorded Before Edison
Sydney Morning Herald. Listen up: world's oldest recording gets airplay
Archeophone Records
Fonotone Records
Joe Bussard's MySpace page