This week I set up 60 Edublogs for my two of my three Year Nine History classes. They are about to begin their time diaries. The students will hop into their own imaginative tardis and export their minds back to Australia of the 1930s and 1940s. They will keep a diary of their experiences during those turbulent times in Australia's history.
My main aim was to add the 60 students as authors to the class blog and the easiest way to do so was to simply use the multiple Blog and User Creator in eduBlogs. I created the 60 blogs, 15 at a time. I created 60 student 'temporary' gmail accounts using that neat little short cut that is described here. You know the one…
yourmailaddress+studentname_01@gmail.com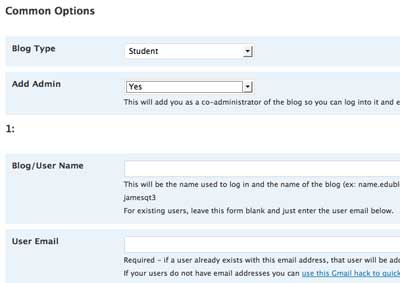 I kept the students' names, gmail account address, edublog username, edublog address and edublog password in a word document. I also subscribed to the 60 blogs in a Google Reader account od I could easily monitor the student progress.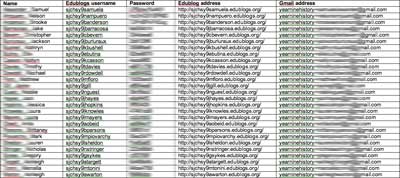 I set the permissions for each blog and also the permissions for each of the students in the class blog. As you can imagine I devoted some time to these activities. When I first logged into edublogs to begin this process I had to reset the password of the main class blog due to a software upgrade. That only took a moment.
This morning I began to share the new edublogs with the students and I set about to demonstrate a blog set up for a fictitious student, Fred Ziffel. Anyway, upon logging in that message regarding regarding the software upgrade and password reset appeared and I initially thought,"Well, that is not a problem. The students can reset the password when they log in to their new blogs."
But, then it hit me! I had used a single gmail account to create the blogs! I was the only person with access to that gmail account. I would have to reset the passwords for all 60 blogs myself. These are the steps I will need to take.
First of all I will need to log into the specific student account.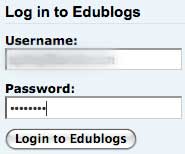 Then I will need to click on the link to reset the password.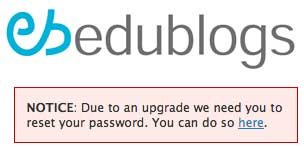 Then I shall type in the student's username.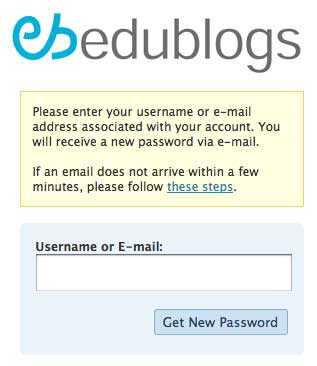 Then I need to check the gmail account.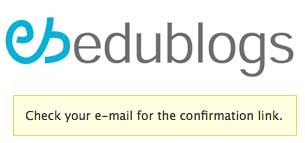 I will open the gmail account and read the message from edublogs.

I will click on the confirmation link.

I will be taken to this page where I will be asked to recheck my email for the new password.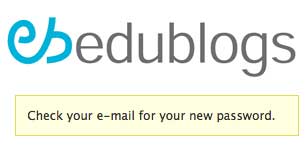 I will then go back to the email to retrieve the new password.

I will open the email to obtain the new password.

I will record the new password in the word document.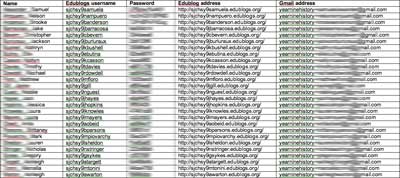 I will need to repeat these steps for each of the 60 student blogs. If you know an easier way please let me know. I guess the Edublogs Campus edition is the real solution.