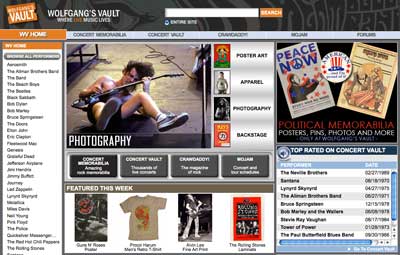 One of my favourite sites on the Internet is Wolfgang's Vault. "What is that?" you ask? It is one of the most incredible music sites on the web. It streams live concert audio archives going back 40 or more years. There are concerts by David Bowie, Neil Young, Led Zeppelin, Blondie, Devo, Allman Brothers Band, Joe Cocker and on and on. There are over 1740 concerts. Check out this listing…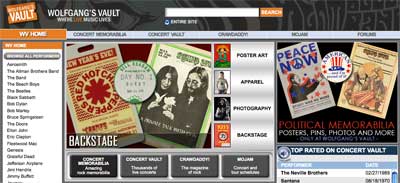 Many of these shows were broadcast live on American radio networks. Some of you may remember the King Biscuit Flower Hour or the Superstar Concert Series? Quite often these radio broadcasts were recorded by fans on to tape and then bootlegged. One of my favourite bootlegs was Resurrection on 84th Street which featured a live performance by David Bowie that was recorded at the Nassau Coliseum in Uniondale on the 23rd March, 1976. I bought my copy from Toad Hall's Rare Records in Victoria via the post. The double album set cost me $11.00AUD.
Anyway, portions of this show are now available at Wolfgang's Vault. The band for the tour were tight. The shows were powerful. Bowie was really enjoying himself.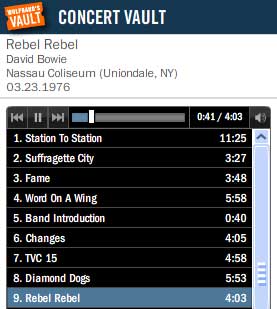 Every now and then I surf over to the vault and listen to a gig or two. It is incredible. The two Led Zeppelin shows from 1969 are brilliant.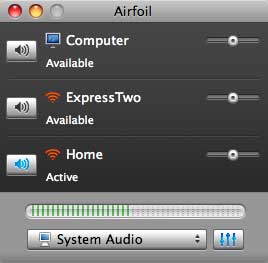 Tonight I thought I would set up Airfoil on the Mac and play the streamed audio through my stereo via the wireless network. I have been playing my iTunes playlists over the wireless network for a while now. I should have set up Airfoil to broadcast the other audio on my Mac as well a long time ago.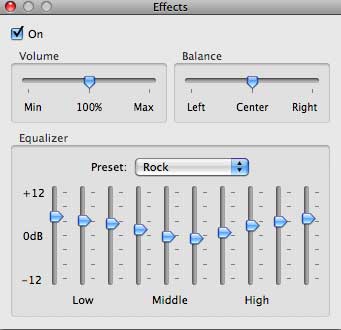 This software is neat. You can select the different nodes on your network and adjust the volume and equalisation of the audio. Works on Windows too.