This week I have been based at Nanyang Technological University. I arrived last Sunday via Singapore Airlines on the new Airbus A380. Amazing aircraft. It is school vacation time back in Australia so here I am in Singapore, my second home.
First up on Monday I gave a presentation to a group of educators from across the island on current trends regarding web based technologies as well as illustrating some of the possibilities relating to the application of mashups and data scraping to your RSS feeds.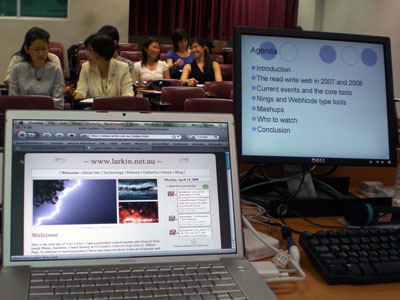 Flipping between a Mac and PC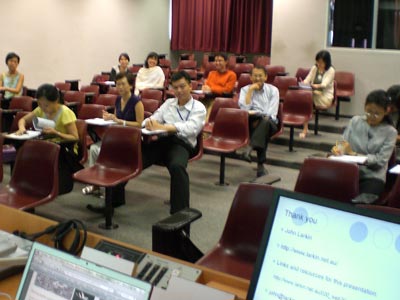 The audience begins to arrive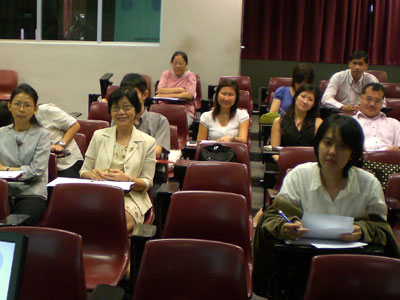 Lecture theatre 12 is a great venue, not too big, not too small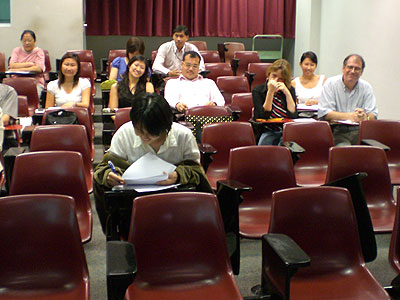 Nice smiling faces
On Tuesday I gave a reasonably straightforward workshop on some of the tools that one can use to manage their news feeds and bookmarks. We looked at readers, del.icio.us, blogger, wordpress and twitter. During the course of the workshops I posted micro-blogs to the 'universe' on Twitter to demonstrate aspects of its possibilties and the universe responded with an engaging shower of meteororic responses from Sue Wyatt, Siva, Sarah, Russel, Chris, Alec, Keamac, Helen and Jane.
I have mixed feelings about the WordPress upgrade to 2.5. There are some interface improvements. Other interface let-downs. I am  most unimpressed that it will not allow javascript in your widgets. Bad move WordPress. I just might switch blogging engines again later this year. I will certainly never use WordPress as the basis for my workshop. I will revert to Blogger. The WordPress server was slow, dead slow actually on Thursday and again on the Friday with frequent time-outs.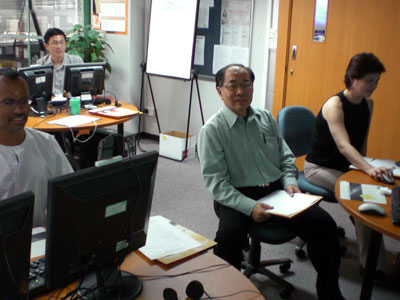 CED Traing Room, there is Dr Jacob Gan in the foreground
Wednesday was quite an exciting workshop. We looked at RSS feeds in a little more detail. The types of tools we explored included Yahoo! Pipes, Dapper and AideRSS. We also performed an autopsy on Google Reader to see how we could derive greater benefit from the tool. We performed CPR on Google Reader after we stitched it back up and you will be relieved to learn it performed to our expectations.
It was quite an interesting day and admittedly I was a little apprehensive as some of the technologies are a little quirky. Everything went quite well. It is quite neat when you can create an RSS feed from a site where none previusly existed. We "collected" data from a number of sites that did not possess feeds, established the feeds and then merged them into a single feed. In that manner, when the sites were updated we were informed via our readers, such as Google Reader.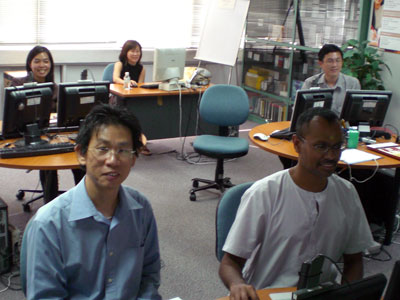 More happy participants… Wednesday's workshop was quite fun actually
Yesterday I gave a workshop at the Singapore Airlines Training Centre, the home of the world famous Singapore Girl where the newly recruited attendants are trained. During the afternoon I gave a workshop at the Hwa Chong Institution. Today I have an introductory workshop on what I call the core tools of the read~write web. I will post on those tomorrow.