Been meaning to write this post for a week or so now. The return to school and a bout of the 'flu got in the way.
During my last trip to Singapore I made the time towards the end of the trip to catch up with some friends, old and new. Usually I fly, conduct the workshops and fly out. This time I added in a weekend. It was well worth it. It was a nostalgia trip in some respects.
One evening I caught up with Sarah Teo. She is a senior staff member at U21Global, a cross between a senior project manager and senior instructional designer. We both worked at ICUS [recently purchased by Academee] together and collaborated on some eLearning projects for Singapore Airlines. Sarah was my project manager and I was the lead instructional designer during those days. I had a not too infrequent habit of leaving the office at about 5.30PM. I am sure Sarah would have been happier if I left later each day and put in a few more hours at work. I often worked late at home anyway, and the weekends, and public holidays.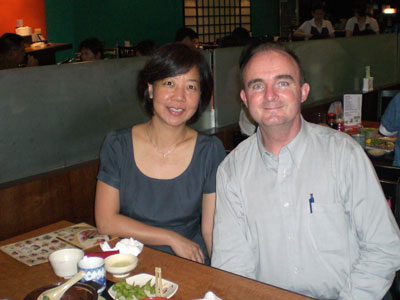 Sarah and I at the Japanese restauarant
We had dinner at one of the old stomping grounds of the ICUS staff during lunch hours. We had a Japanese dinner. Sarah has been incorporating blogs, wikis and video conferencing tools, such as Seesmic, within the courses that she designs for U21Global. Sarah's deployment of the tools has been quite progressive actually. I was quite impressed and wonder whether or not I may make a more permanent return to Singapore to be a part of these developments at some time in the future. If not Singapore, then maybe Taiwan.
After leaving ICUS in April 2003 I had a break and returned to Australia for a couple of weeks to rest, and then returned to Singapore. I had about 6 weeks or so off altogether at the time. I was still teaching casually at the National Institute of Education. A few organisations contacted me regarding positions as an instructional designer. I was offered a job at U21Global to be the chief instructional designer back in June 2003. I spent some time there during the lengthy interviewing process and even developed a flow chart outlining my view of the course development process [doc][pdf] at U21Global. It's a little imperfect and overly complex looking at it now. U21Global liked the general idea.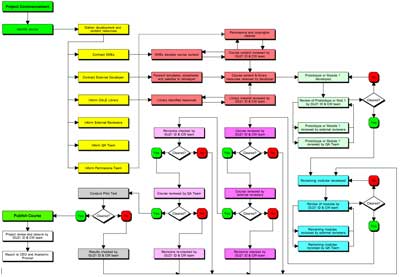 Proposed Course Development Process at U21Global
I turned down the offer, a difficult decision actually, and took a chance that I would be offered a position by Nanyang Technological University. The chance paid off and I soon began work at the Centre for Educational Development at NTU. It was great catching up with Sarah. Brought back a lot of memories and news of former colleagues.
Caught up with Siva during the trip. Seeing Siva is a must. Siva is easily one of my closest friends in Singapore. I met Siva while working on a cd-rom project for Knowledge Village. The focus of the cd-rom was mangrove environments and I was seeking subject matter experts. A search on the net turned up Siva. He was a researcher at the National University of Singapore and worked at the Raffles Museum of Biodiversity Research. I was quite an intense person at the time, probably due to the pressure being applied by Knowledge Village at the time. Too many projects, too few staff and too few resources. That is another story.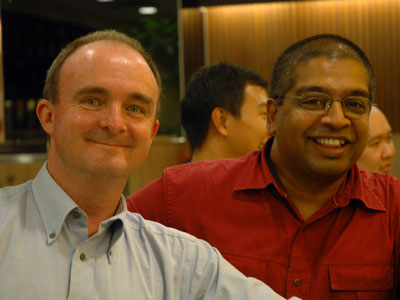 Siva and I share some Macintosh notes
Siva was a breath of fresh air. Siva and I hit it off immediately and then when we discovered we were Mac users we began swapping notes and ideas in earnest. Excellent! I became involved in some volunteer programmes around Singapore, as a result of meeting Siva, including the International Coastal CleanUp and simply fun things like the Pedal Ubin bike rides. Some of my galleries of those events are here: Pulau Ubin | ICCS 2001 | ICCS 2003 |
Siva has made excellent use of blogs in teaching his Biology courses at the National University of Singapore. In addition to his own excellent blog he has set up many others with his students and volunteers at the museum. Siva was blogging by phone using Bluetooth and other tools, out in the field, in the mangroves, to his original blog back in 2003, if not earlier.
Biodiversity Crew at NUS ~ check out the students' field journal blogs!!!
Biology Refugia
ToddyCats
Pasir Panjang Heritage
On this trip Siva and I caught up during a MacMeetup. That was a great night. We talked about macs, blogs, blogging, publishing, censorship, politics, people, gear and so on. We all had to be kicked out of McDonalds at the end of the night.
I also caught up with Susan Sedro during the trip. Susan is a technology co-ordinator at the Singapore American School and she also has a rather elegant blog. We shared a nice breakfast at Causeway Point in Woodlands, not far from the school, early on the Saturday morning. We shared Singapore stories and previous career moves. Susan has also taught in Kuala Lumpur. I am always happy to meet other educators who make the move to destinations overseas.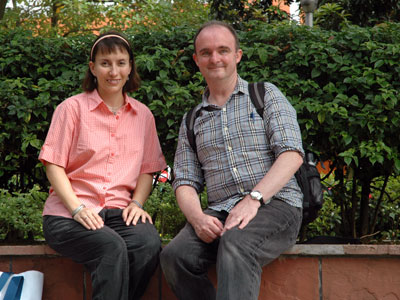 Susan and I pose for a camera on a ten second timer
I was amazed by Susan's stories of the International Schools Job Fairs. I never knew that these existed. [Note: Jeff Utecht at the SAS in Shanghai has blogged about similar job fairs]. I conducted a Blackboard LMS workshop or two at the Singapore American School back in late 2003 ~ early 2004. The school, as was other institutions in Singapore, was developing contingencies in the event of another SARS or similar outbreak. The SAS was also involved in the International Coastal Cleanups, mentioned earlier. Speaking with Susan, as well as Siva and Sarah earlier in the week, has reignited my interest in the region ~ in the sense of a more involved professional connection, as opposed to the quarterly trips.
Later on Saturday I caught up with Westley Field. Westley is Director of eLearning at Methodist Ladies College in Sydney. Westley and I were both graduates of the Masters' Programme of the Faculty of Education at the University of Wollongong. We were both collaborating with the team at the Interactive Multimedia Learning Laboratory at the UOW and being guided and taught by Dr Barry Harper and Dr John Hedberg. They were the days of HyperCard and Macromedia Director.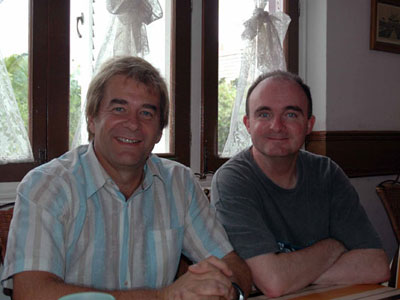 Westley and I following a rather rich Malay lunch
Westley was staying at the Hwa Chong Institution, where he was conducting a presentation on Skoolabarate, a Second Life collaborative project, the following day. We had dinner and a couple of drinks and the following day we met up with Alan Soong at Kampong Glam for an incredible lunch and also a very interesting round of desserts.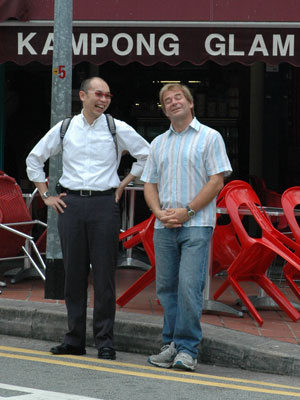 Alan grins as Westley hams it up in Kampong Glam
Alan was one of my students in the Masters' programme at the National Institute of Education, Singapore. I was teaching casually at the NIE while one of my former lecturer's from the Masters' Programme at UOW, Dr Cheung Wing Sum was on leave. It was Alan that introduced me to the staff at the Centre for Educational Development at NTU where he was an instructional designer. It was not long before I had the good fortune to work at the CED. Alan, Westley and I had a great Sunday together.
Later that day I caught the plane home to Australia.