Last week at the conclusion of the workshops at NTU I climbed into a taxi and made my way to Suntec City in the heart of Singapore. I headed down to the basement and to McDonald's. Yes, McDonalds. That is where members of the Macintosh Evangelists at Nanyang gathered. [I had attempted to add a hyperlink to the acronym, Me@n, but the post editor would not let me.]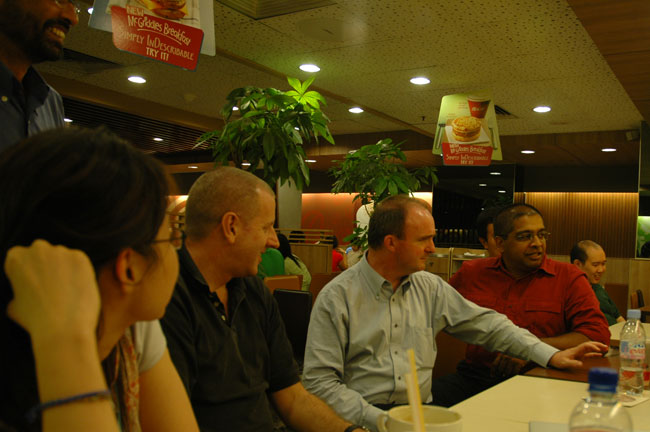 The old hands share some sage advice
It was a great evening. Thoroughly enjoyed it. I even consumed a cheeseburger and some chips (French Fries). We talked about everything under the sun. Politics, publishing, pricing, food, travels, countries, life and Macs, among other topics. I met some new members and caught up with some old members. I think I was the oldest member there, in terms of age, not membership. There were a variety of Macs present, a few cameras and a pair of B&O earphones that I had received from Singapore Airlines as a gift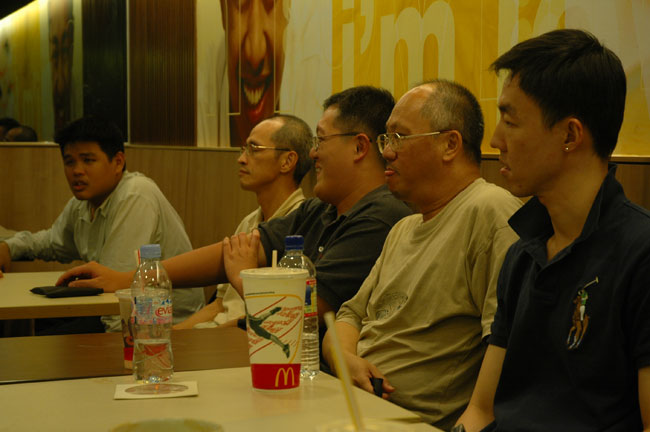 The jury listen intently
Now, I think, the following tasteful people attended the meetup: Puay Ann, Ivor, Laurence, Kenneth, John (sg), Choon Chai, Kian Chai, Hanx, Yezdi, Colin, Kevin, Hamish, Julian, Jermyn, Marcus, Benson, John Larkin and Siva. I hope I did not make a mistake with the names on the gallery. Please correct me if I am wrong.
There are also galleries of the event created by Laurence and Kenneth. I have created galleries of earlier meetups:| April 12th, 2005 | April 13th, 2004 | November 9th, 2002 |
I look forward to the next one in July! Will you be there?