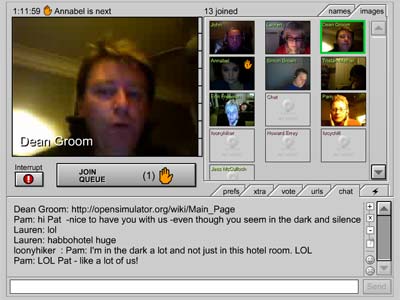 Dean Groom in his role as Howard as he weaves his OzNZ disciples down the PBL pathway
Sat in on an OzNZ educators flash meeting. It seemed I arrived first and rather idiotically I clicked on the Start Broadcast button and sat there like a stunned mullet for a bit until I realised I had hijacked the opening of the proceedings. Oh well, I will not lose any sleep over at that.
There was discussion regarding Second Life and also Interactive Whiteboards. I was looking forward to more talk on SL actually. SL intrigues me somewhat.
Some educators rave about SL. Others deplore it. Two documentaries regarding virtual worlds and Second Life that aired on the 6th August on SBS TV here in Australia, the Age of Avatars and Wonderland: Virtual Adultery and Cyberspace Love did not go down too well in some education sectors. PodLove may have perturbed some educators as well.
Then as the online discussion continued, Dean Groom, provided us all with an excellent and impromptu live example of PBL. We were all involved as we gradually collaborated to solve the problem set up by Dean. One gradually took on a role as we sought a solution to the conundrum. Dean is a real practitioner. Impressive. It was a good get together. I lurked more than contributed. Next time I should be more proactive. A number of sites were referenced during the meeting:
AUGrid
Machinima
OSGrid
GenerateWebSite
Skoolabarate
Digital Ethnography
I participated in what I believe was the first OzNZ flash meeting back in April. That was a interesting experience as well.
This evening's meeting has been archived here. The OzNZ educators group is well supported with a wiki, diigo group and a ning.
Addendum: Discovered this nice piece on Machinima on the SBS TV website. May interest you.