This morning I read about the Historic Tale Construction Kit in the Instructify blog. This web based application allows you to create a sequence of mediaeval events using images drawn from the Bayeux Tapestry. I believe that teachers of history that cover the middle ages would find this application very useful on a number of different levels.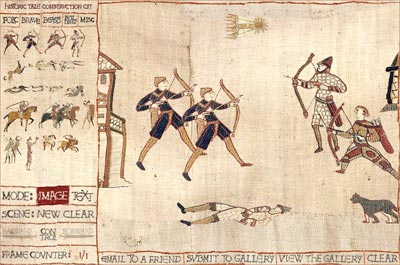 Teachers and students could recreate scenes from the tapestry and add additional text blocks that annotate the scene.
Scenes from the tapestry could be reworked thus generating arguments and controversies for debate. This could be considered a mediaeval form of "airbrushing" and "photo-retouching". Discussion based upon "What if?" scenarios could be started.
The application allows the user to drag and drop a variety of characters, animals, beasts, plants, buildings and boats on to the canvas. These objects alone could be used as standalone focal points for analysis and discussion. You can also add authentic looking text to the canvas. They have even included Halley's Comet which made an appearance in 1066 and was included on the original tapestry. You can create a sequence of scenes and advance from one to the next.
The user generated images can be emailed to a friend or sent to a gallery (although I could not get this to work). Savvy computer users could take a screen capture of the image, save it as a jpeg and then import it into a VoiceThread. Students could then add their own commentary to the image. They could also create an imaginative oral history based upon the characters in the mediaeval scene. The image in this post is a screen capture. Captured images could also be embedded in presentations, blogs and so on. There are opportunities for learning, debate, humour and fun. This is a captivating application.
It was a little buggy at times. I suspect that you can only drag a maximum of 9 or so objects onto the tapestry window. After that previously placed elements disappear. At times it appeared to freeze when you dragged an element on to the editing window from the palette at left. When embedding text you cannot place the cursor i-beam at the point you wish to re-edit. You have to use the delete or back-space key to return to the editing point. I was unable to publish to the gallery. My first attempt at using this online application can be found at this post.
I know that teachers of the Stage 4 History syllabus in NSW would find this a handy tool to use when teaching students about the society and people of the Middle Ages during Year 8 of their schooling. Students studying the Battle of Hastings will find it particularly useful.
As an aside I conducted a quick search for related sites and two of the more interesting were EuroDocs: Britain 1066-1485 which is a treasure trove of primary source material and The Bayeux Tapestry which provides a Quicktime VR panoramic view of the Bayeux Tapestry.
Links
Historic Tale Construction Kit
Medieval Sourcebook: William of Malmesbury, d. 1143?: The Battle of Hastings, 1066
Anglo-Saxon Sourcebook: The Battle of Hastings
The Battle of Hastings: A brief tour by Dr Deborah Vess
The Battle of Hastings according to Orderic Vitalis
J.P.Sommerville: The Battle of Hastings
EuroDocs: Britain 1066-1485
Britain's Bayeux Tapestry at the University of Reading
Official site of the Bayeux Tapestry (French)
The Bayeux Tapestry
The Bayeux Tapestry ~ QuicktimeVR panorama
Wikipedia: Bayeux Tapestry and Battle of Hastings
—————-
Now playing: XTC – Senses Working Overtime
via FoxyTunes