I have a couple of favourite photographs. Both taken with a 3 megapixel Sony digital camera about eight years ago. Thought I would write a little about each. The first is of an spider that I managed to photograph in Sungei Buloh Wetland Reserve in Singapore back in 2000. It was hot and humid. I was there with some colleagues who were photographing some of the flora and fauna for a CD-ROM on mangrove environments.
Location of Sungei Buloh Wetland Reserve in Singapore.
I decided to see how close I could get to this particular spider. I made my way into the undergrowth and crouched down upon the wet damp leaves. I held the camera in both hands and using a simple macro setting eased the lens closer to the spider until it seemed to be in focus. I took the photograph. It is shown below. The spider is a little out of focus. She was busily repairing the web. [I think the spider is female as it lacks tarsal bulbs on its pedipalps]. She seems to have lost one of her legs. View large photograph.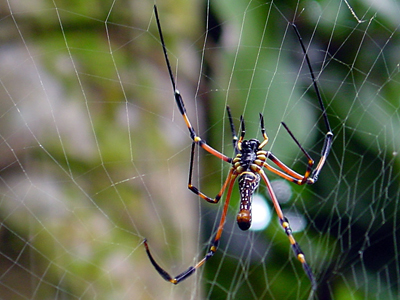 The other was photograph was also taken in a mangrove. This time in Indonesia. My wife and I had taken a holiday in Bintan to get away from Singapore. While we were there we were given an escorted boat ride into a nearby mangrove and I took a number of photographs with the same Sony camera. While we floated along we came across a part of the mangroves where a large number of mangrove snakes were lying on the branches above and alongside the waterway. This species of snake is widespread and is also referred to as a cat snake.
Location of mangroves in Bintan, Indonesia.
I asked our guide if we could stop so that I could take a photograph. The little boat paused. I grabbed my camera, gently stood up and pointed the camera towards the snake. The boat was swaying to and fro a little. I grabbed a branch with one hand and held the camera with the other. The branch I held is in the left of the photograph. As I grabbed the branch and took that photograph the snake turned to look directly at me. I quickly sat down and the guide backed the little boat out of there. He was worried that I might be bitten or the snake may drop into the boat. View large photograph.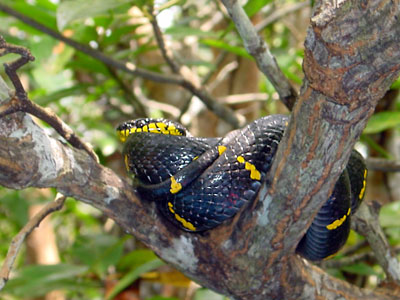 The image is blurred. I did not have the time to focus. Still like the photograph though. I was close. Probably too close. I have been back to those mangroves, with my wife Shao Ping and my nephew Adrian.
Do you have a similar memorable moment captured on camera that you would like to share?